Real steamroller!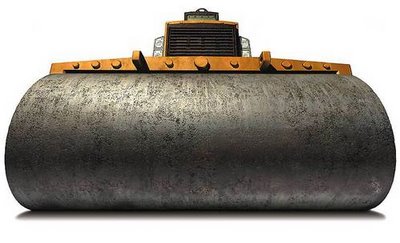 While I mastered the dakka-monsters, described in Part 2, a lot of people around the world developed a competitive Stompy tyranids army. Now our monsters are much better with Feel No Pain, as well as they are awesome at destroying tanks and transports. Also, Swarmlord gained the access to powerful magic, that allows us to build a very touch and lethal army that is more or less a living steamroller! Like this:
1850 Pts

- Stompy Tyranids Army
HQ
The Swarmlord
Tyrant Guard - Lash Whips
Tervigon - Stinger Salvo; Toxin Sacs; Catalyst; Onslaught
Elites
3 Hive Guard Brood
The Doom of Malan'tai in Mycetic Spore
Troops
Tervigon - Stinger Salvo; Adrenal Glands; Toxin Sacs; Catalyst
Tervigon - Stinger Salvo; Adrenal Glands; Toxin Sacs; Catalyst
10 Termagant Brood
10 Termagant Brood
Heavy Support
Trygon
Trygon
3 Biovore Brood
Unit by unit:
The Swarmlord+tyrant guard. Swarmy is the ultimate close combat fighter in 6 ed. Go for biomancy first. If you rolled Iron Arm and Endurance then go for Telepaty. The key to victory is having Iron Arm for him. With a single guard all the unit is T6+1d3 under Iron Arm spell. If you cannot find cover for Swarmy – place guard behind the gants and transfer AP1-AP3 wounds on guard through Look out, sir! The guard then will be allowed to take cover saves for being hidden behind the gants:)
Tervigons. They are our game-winners. HQ tervigon is triple-power one, it changes all his powers for biomancy and rush forward in the front line. Feel free to take Telekinesis if you rolled Endurance/Iron Arm with the first or second roll. Telekine dome may be useful for aggressive advance of your army. Both troops tervies keep their codex power for Feel No Pain purposes. It's one of the best powers for our T6 monsters! Do not spawn at the very first turn if you do not expect a heavy drop or a lot of flyers. Keep the ability to spawn for a later turns, when spawned gants will find out a target for shooting-assault right after appearance.
Termagants. They unlock more tervigons:) Also, 2 broods are our backfield objective-holders. Keep them at back, initially, not to give you opponent an easy first blood. Then this 2 broods go for objectives, while our main steamroller pushes the main direction.
3 hive guards. They are can-openers and anti-distraction unit. They can bring down a single nasty speeder that is floating out of our main direction of attack and movement. Also they can open a transport for a comfortable assault for Trygons or a Swarmy.
The Doom of Malan'thai is the cheap and extremely effective distraction unit. Drop it near longfangs/platoon/havocs/obliterators and look as they try to bring it down by overcoming his 3++ save:) If your opponent has a sweet target for psychic scream like Oblits – take it instead of Cataclysm. If opponent hase big blobs of infantry or a lot of transports to shoot at, then keep Cataclysm.
Trygons. They are SCARY! So many scytals, teeth and claws! URGH! Rush them forward! Give them FnP and rush them forward for the glory of the hivemind! Usually in 9 of 10 games you have no need of reserving them.
Biovore Brood. And the icing of the cake – biovores. Why? Cause our monsters are not good at killing infantry blobs! All those grenades and power weapons… This guys, biovores, solve this problem as well as they force opponent to stretch his forces, making it easier to get into assault range with our monsters! Also, they are our snipers! They can bring down a single model from the backfields unit with a barrage blast (the models are removed starting from the center of the blast!). And they have a short work on a cheap scorings that hide behind a los blocking terrain. Very useful and cheap unit!
Tactics:
3 Tervies, Swarmy and 2 Trygons are over steam-roller. Usually, place them all on the table and rush forward. But if you fight a mobile opponent it may be wise to spread a bit. It's ok to run Swarmy and tervies in the middle, while Trygons rush along the flanks out of synapse for rage! But within 24" for Endurance. If you face a heavy shooting army you can reserve trygons and gaunts.
Place 3 tervies and Swarmy on board and give them all FnP/Iron arm. It will soak up some damage for the first turns. Then, after reserves are in, your swarmy-tervies will already control the center of the board, so opponent will be face to face with all your monsters from turns 2-3.
I don't have anything else to say here, as this army is more or less straightforward in operation.
Don't reserve Trygons too often. But reserve gaunts and, sometimes, biovores if it looks like they are an easy first blood target.
Starting army:
Double Trygons with doubled tervigons is a HORROR for a 1000 pts game. Try it!
1000 Pts

- Stompy Tyranids Army
HQ
Tervigon - Stinger Salvo; Toxin Sacs; Catalyst; Onslaught
Elites
3 Hive Guard Brood
Troops
Tervigon -Stinger Salvo; Toxin Sacs; Catalyst; Onslaught
10 Termagant Brood
Heavy Support
Trygon
Trygon
Reserve the gants and put those 30 T6 wounds on table. Tough? Oh, yeah! And deadly!
Army cost:
To collect this army one will need
(according to http://www.games-workshop.com/gws/catalog/landingArmy.jsp?catId=cat440179a&rootCatGameStyle=):
116$ - Four termagant boxes (48 termagants)
74
.
25$ -
Three Hive Guards
As a result you have a gorgeous army with beautiful monsters and a lot of little gribbles to surround them like water surrounds a cliff:) Not a cheap army to start with, but there are no problems to find out all the models in a nearest shop. 48 termagants take a lot of time to paint, but they are the minis to practice on, before starting the Big ones:)